Birsay
Ancient Capital of Orkney
*************
Welcome to BIRSAY, home to Neolithic peoples, Picts, Vikings, Scottish Royalty and a cosmopolitan cross-section of people today.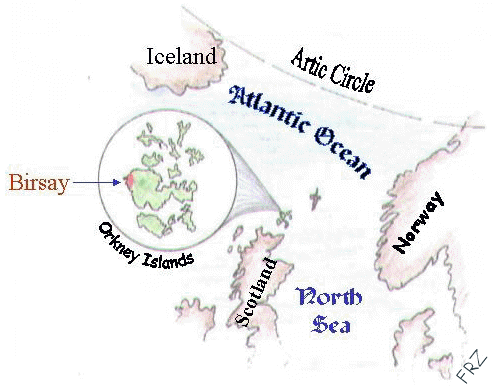 BIRSAY TODAY
Now a parish of Orkney, Birsay was already ancient when it became the centre of Viking power in the days of Earl Thorfin of Saga fame. Orkneys' first cathedral was in Birsay, and St Magnus was buried here following his foul murder, c 1116. St. Magnus Church now stands on these foundations. Centuries later Earl Robert Stewart, bastard brother of King James V, built his palace here, testimony to the richness of the area. Today peace reigns over good farm land, fishing grounds, bird colonies, convenient services and quiet, beautiful scenery.
WHY COME TO BIRSAY?
Birsay - in fact, all of Orkney - has been settled continuously since Neolithic times more than 5000 years ago, and Birsay has remains and reminders from every chapter of this long history. Earliest are the chambered cairns and standing stones; in the Iron Age tall stone towers called brochs were built for reasons still unknown. Later, the Picts lived here, as archaeologists have found from their house sites and workshops. Most famously, the Norse swept all before them, as place names and the ruins of buildings testify. The Norse blended with the incoming Scots leaving a record of activity up to the present day.
Come to absorb the sense of continuity wrought by the evidence of this long history. Come to walk along the sea cliffs and across the open moorland while studying the bird life. Come to explore the archaeological treasures, or just to relax in the glow of the open sea and sky.
The BIRSAY HERITAGE TRUST was established in 1998 by the citizens of Birsay concerned that historically interesting sites are rapidly decaying or disappearing, and that living memory of these will soon fade.
BARONY MILLS is operated by the Trust for the Orkney Islands Council. In addition, the Trust also disseminates information about Birsay and encourages the public to appreciate and help preserve the many aspects of heritage.
NewsLetter:
Several times a year, the Birsay Community Council publishes a newsletter: 'Roond Aboot Birsay'. The newsletter was started by Rev. Graeme Brown when he first came to the Birsay Parish. When Rev. Brown retired, the Birsay Community Council felt the newsletter was of significant interest to the parish that they have continued its publication. As each new issue is published it will be added to this website for your enjoyment.

---
On behalf of the BIRSAY HERITAGE TRUST,
WELCOME TO BIRSAY
Record an entry in our Guest Book
Please <!add your comments to our ><!a href="birsay.new/guest_book.htm" onMouseOver="MM_displayStatusMsg('Record an entry in our Guest Book');return document.MM_returnValue" onMouseOut="MM_displayStatusMsg('');return document.MM_returnValue"> <!Guest Book><!/font><!/b><!/p> <!p align="center"><!b><!font color="#000000" face="Arial"><! or >View Guest Book Entries recorded by other visitors to our site.
---
GETTING HERE!
ONCE IN ORKNEY
To get to BIRSAY from KIRKWALL: Take the A965 road from Kirkwall, through the village of Finstown; about 1 mile beyond turn RIGHT onto A986 following the signs to Dounby. The parish of Birsay begins in Dounby, and the Barony Mills, a working water mill and information point, is 5.3 miles north of Dounby, and close to the main Historic Sites.
To get to BIRSAY from STROMNESS, a ferry terminal for those arriving by car, leave the town on the A965 for Kirkwall, but just outside the town, turn LEFT onto A967 to Dounby. Follow the signs to Dounby then turn LEFT onto A986 and continue to Barony Mills as above.
Click here for local map highlighting Mill
Click here for local map highlighting Church
TO GET TO ORKNEY
Official Orkney Tourist Board Site
British Airways plan your trip
LINKS of Interest to Travellers to Orkney